ASTERRA, a division of Utilis, is hosting a surprising leader in the leak detection industry, a dog named Vessel, at WEFTEC 2021 booth #4415 on October 19th at 2 pm. Vessel is the first dog to be trained to detect water leaks in the United States. She has saved more potable water than any other and deserves celebratory pats on the head as one of the world leaders in the water industry.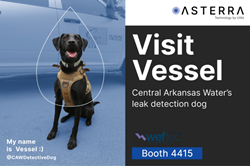 Visit Vessel the dog at WEFTEC in
Chicago on October 19th at 2 pm.
Vessel is a black retriever who was living in an Arkansas shelter when she showed promise as a special service dog. After her rescue from the shelter, she was trained as a leak detection dog. Her accuracy is 90% in detecting leaks and she is now a full-time member of the Central Arkansas Water (CAW) leak detection team. Watch Vessel in action here; but meeting her in person at the ASTERRA booth is sure to amplify the WEFTEC experience.
The CAW team is one of many water utilities that work with ASTERRA's Recover technology to locate leaks in their water distribution system. Utilizing specialized RADAR signals from satellites, ASTERRA illuminates the areas of interest and collects the resulting reflected signals. These signals are analyzed and processed to identify specific indicators of wet soil saturated with potable water. The result is a map showing likely leak locations.
Recover-directed leak detection performance at Central Arkansas Water is a nine times improvement over traditional detection methods in the number of leaks found per mile inspected. It is also three times better on the leaks per day metric. Read more about Vessel's role in saving potable water here.
The first 50 visitors who meet Vessel at ASTERRA booth #4415 will receive a special commemorative portable dog water bowl. The 94th WEFTEC conference will be held at McCormick Place in Chicago, IL. The conference runs from October 16-20, 2021, and the exhibition runs from October 18-20, 2021.
To meet Vessel and learn more about the ASTERRA team at WEFTEC, follow this link.